Since a long time I have searched for a way, to write BootProms for my PDP's like the 11/34, /24 and the /44.
I had some luck, and have got 30 Bipolar Proms Signetics (82S131N) in NOS state.
This type can be written in a bigger amount of old programmers, like the Data I/O 29b with at least the Unipak2. (a Unipak2b is not needed)
One week after In was able to acquire the BProm's I have found an Data I/O 29b in ebay UK, and was happy to be the bidder who got it.
Packaging was good, the contact and communication was more than perfect, so that the Programmer arrives here after two days on the road via DPD.
Yes DPD! And it was with about 20 Pound the cheapest possibility to get them to Germany.
A first check-up and some Cleaning later I have copied a DEC RL01/02 (23-751A9) BootProm to a NOS 82S131. The Checksum fits, and all was running good.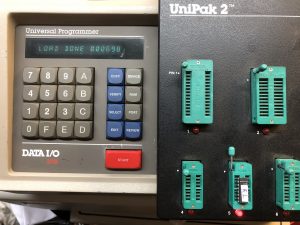 5 Minutes later, the filter filer Cap in the Power Socket has started burning, so that I was in the need to exchange them, in an manner, which keeps the programmer in an original state.
Some impressions here: