I have spotted a nice 11/24 on eBay, and have near in time contacted the seller.
The system looks really nice and in good shape, and consists of two Racks an PDP-11/24, two RL02 Drives, an DUal 8″ Floppy Drive, an A/D Converter and some special devices.
I have found a day to drove the 1200km to Cottbus and back and have started the trip on 29-Sep-2017 at 04:00 am.
The ride was pleasant and till Dresden all was good. At this point things went bad, as the clutch of my Renault Espace began to fail, but I was able to drove further to Cottbus and also the whole way back. Thanks lovely Car – you will be repaired!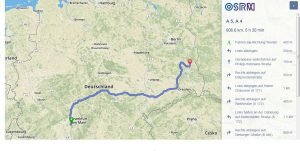 Here some Pics: